Sonos
Sonos maakt sinds 2002 het toonaangevende Smart Speaker-systeem. Een slim netwerk van draadloze speakers dat je huis kamer voor kamer van sensationeel geluid voorziet. In 2002 begon het bedrijf met een paar intelligente technici en briljante ontwerpers die hun liefde voor muziek deelden. Inmiddels is Sonos uitgegroeid tot een wereldwijd muziekmerk dat zich richt op de totale verandering van de luisterbeleving thuis. De draadloze Smart Speakers en audioproducten voor thuis maken het voor iedereen makkelijk om in elke kamer van de beste muziek te genieten. Zo kan iedereen naar zijn favoriete nummers luisteren, nieuwe, onbekende muziek ontdekken en genieten van de beste geluidskwaliteit; maak het leven aangenamer!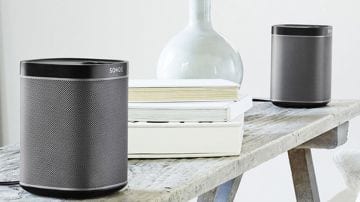 SONOS voor muziek
Er is voor elke kamer een ideale draadloze speaker met een fantastisch geluid. Slaapkamer, keuken of studeerkamer. De draadloze speakers van Sonos zijn eenvoudig te installeren en te gebruiken. Steek de stekker in het stopcontact. Download de gratis app. Maak verbinding met je WiFi-netwerk. Binnen no time kun je alle muziek streamen waar jij van houdt.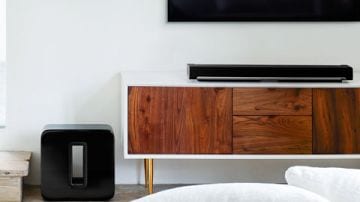 SONOS voor tv
Met een PLAYBAR of PLAYBASE klinkt elke film, game en serie spectaculair. Je hoort alle geluidseffecten, muziek en stemgeluiden. Of ze nu van links, rechts of uit het midden komen, alles klinkt kristalhelder. Je kunt er zelfs je favoriete muziek mee streamen. Combineer met een sub en de dynamische, gedetailleerde bas zorgt voor een optimaal home-cinemageluid.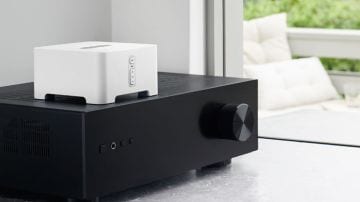 SONOS voor hifi set
Met een Sonos PORT of AMP kun je je bestaande speakers, stereosystemen en home cinema-installaties snel omtoveren tot volwaardige, eenvoudig te gebruiken systemen voor het streamen van muziek. Kwestie van inpluggen en verbinden en je maakt van je bestaande audioapparatuur een draadloos streamsysteem.


SONOS Experience Room
Bij iEar' beschikken we over een ultieme SONOS Experience Room waar alle SONOS producten staan opgesteld. Hier geven we jou graag de perfecte SONOS demonstratie, zodat je echt alle mogelijkheden ontdekt van dit uitgebreide draadloze hifi systeem.
Sonos wiki
Oprichting: 2002

Oprichter: John MacFarlane, Tom Cullen, Trung Mai en Craig Shelburne

Hoofdvestiging: Santa Barbara, Verenigde Staten
Sonos nieuws
Sonos links